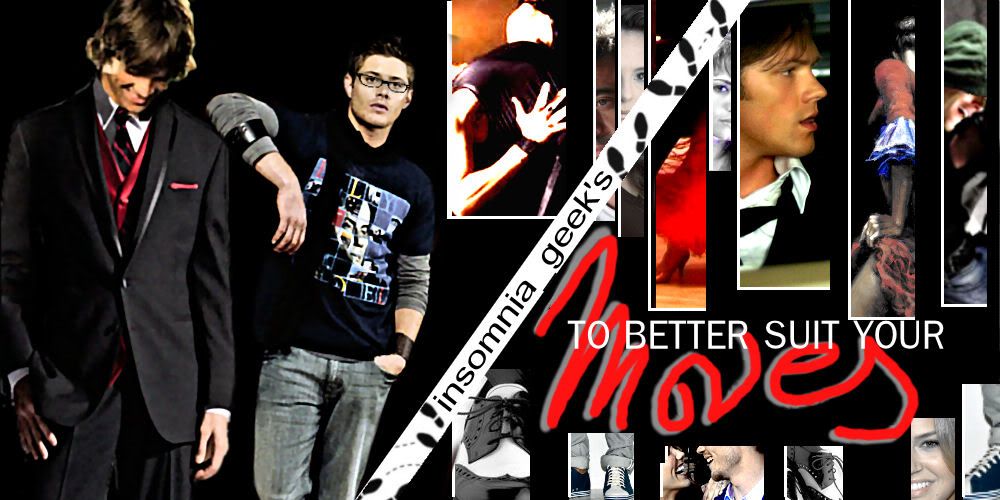 Title:
To Better Suit Your Moves
Pairing:
Jared/Jensen, with some Chad/Sophia and JDM/Samantha Ferris
Rating:
NC-17
Warnings:
explicit m/m sex, language, character bashing, lots of dancing
Word count:
37,714
Summary:
J2 AU based on the Baz Lurhmann movie
Strictly Ballroom
. Jared is a champion ballroom dancer who's lost his partner and his passion just weeks before Nationals. Jensen's a beginner who knows music like he breathes but needs a teacher to compete. Neither knew that their partnership of convenience would turn into so much more, or how learning to dance their own steps could uncover secrets long buried. As dance studio politics and their passion both reach a fever pitch, they have to decide what they really want out of life -- winning, or love.
A/N:
I own nothing and intend no infringement or disrespect. This is a work of fiction, not meant to reflect anyone's real life or situations. Title from Carlos Santana's
Smooth.
Written for
au_bigbang
2010.
Artwork
created by the wonderfully talented
insane_songbird
.
part 1
part 2
part 3
part 4
part 5
part 6
part 7
notes & acknowledgments
Art
Music
(MU) or
Music
(zip) or
Music
(rar) (sendspace)
download the pdf version here
or
here
.
Current Mood:

accomplished